Faux fur trimmed plaid coat: Asos (on sale for under $100!)| Faux leather leggings: Aritzia (and a way less pricey version here)| Caramel sweatshirt: Forever 21 | OTK boots: Sam Edelman |Sunnies: Prada
Blazer: Zara | Metallic top: Reclaimed Vintage (sold out, similar here )| White Booties: Zara , similar ones here and here
This season, New York Fashion Week was ushered in with a major blizzard in New York; we got about a foot of snow on the very first day! I went to events and shows Friday through Sunday (regular job problems lol) and had to get pretty creative with outfits due to the weather conditions.  Dressing for fashion week is always a challenge (a really fun one) because in February, its always snowy and frigid, and in September, temps are usually still soaring in the 80s and 90s.  Anyway, I wore the first look above for my first round of shows– Dan Liu and Hakan Akkaya (see my fave looks from these shows below). The basic sweatshirt is having its moment in fashion right now, and I loved the caramel brown color of it, so I paired it with my fave Aritzia faux leather leggings, OTK boots, and this statement coat from ASOS (all shoppable above). I was cozy, warm and comfortable for a day of running around. The second look was a quick change for datenight with Tim; I did jeans and a metallic top from Reclaimed Vintage, white booties (another HUGE spring trend) and my new oversized blazer from Zara.
The color of the season at Dan Liu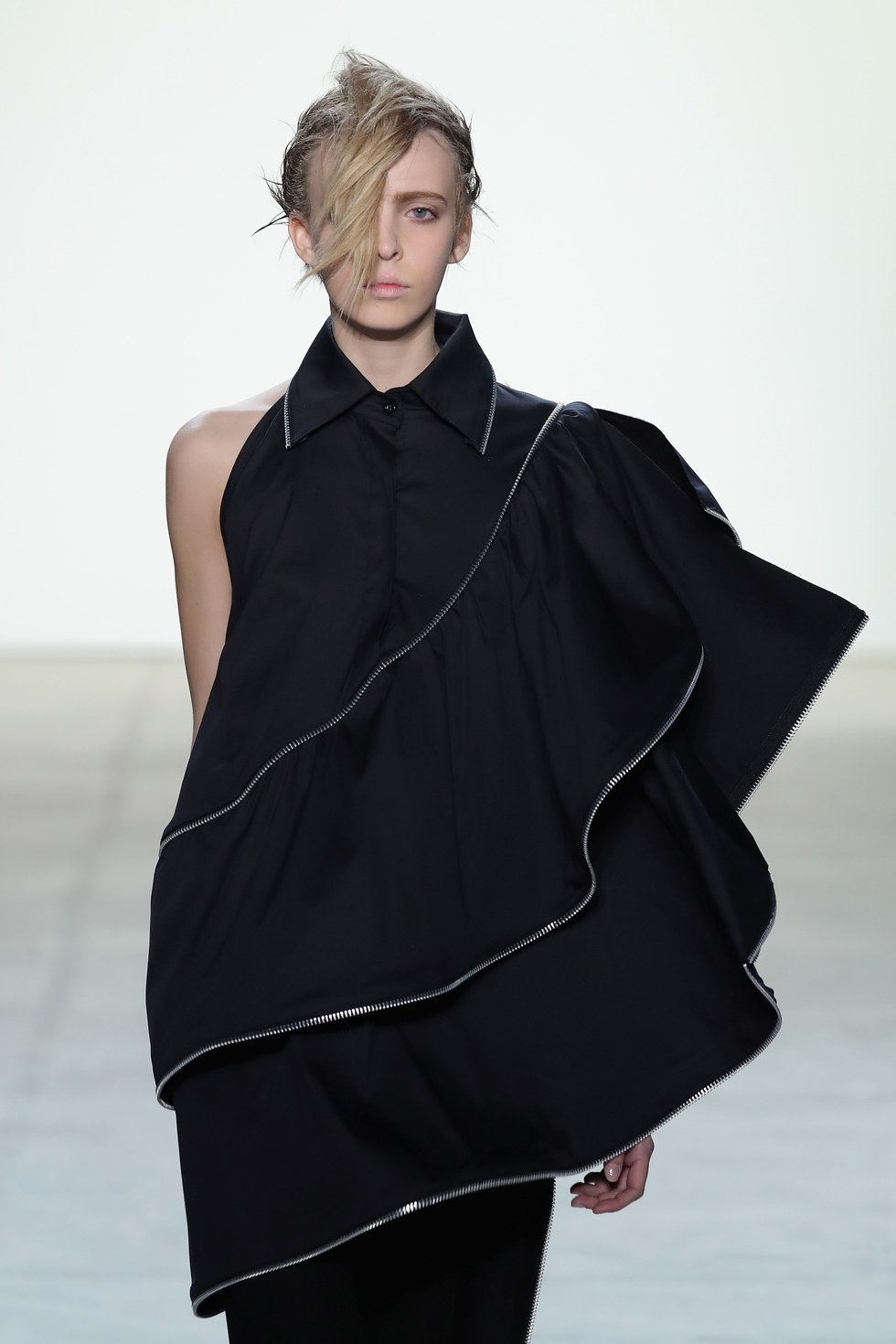 Oversized Ruffles at Hakan Akkaya
Sheer and more ruffles — still going strong at Hakan Akkaya
On Saturday, I had a brunch date followed by the Taoray Wang show and the ShopStyle Social House party.  I was lucky enough to be invited to pull pieces from the Dreams on Air designer showroom to wear for the day, so early that morning I shot down to Soho and picked up the FABULOUS denim star print bomber. I had already planned on wearing this red leather mini from Asos with sheet stockings and white booties, so when I saw this bomber in the showroom, it was a match made in Americana heaven.  Red, like shown above at the Dan Liu show, and in the skirt I wore below, will be everywhere starting, like, NOW.
Denim and leather star print bomber: Narciss via Dreams on Air showroom | Red faux leather skirt: Asos (similar here and here)| Bag: Chloe faye
Taoray Wang showed THE most incredible blazers and jackets; see below for a few of my faves (this will also be a huge trend going forward– the oversized, strong shouldered blazer is back in a big way):
The sheer black lace trend isn't going away any time soon!
Menswear still going strong for spring and fall
My absolute favorite piece from her show! Blazers worn as dresses yesssssss
Blush sweatshirt dress: Asos | Silver puffer: Topshop(sold out, similar one in blush here)| Velvet embroidered booties: Steve Madden | Fishnets: Asos 
For my final day of fashion week, I woke up to the sound of sleet and ice pellets hitting my window…so naturally I was like "today is the day for a mini dress, fishnets and velvet booties!" (eye roll). You guys know my obsession with sweatshirt dresses, so I was super excited to wear this blush rose one with fishnets, my new velvet booties and this silver Topshop puffer.  I tied a camo sweatshirt around my waist for added interest and to break up the dress a little. Sidenote, your highschool puffer jacket was all over fashion week; they're back in a big way. I love the randomness of this metallic silver one with this outfit, and wore this look for a jewelry event hosted by Freida Rothman and my friend Emily Men of The Wardrobes, followed by the Leanne Marshall show …which was AMAZINGGGGG and probably my fave show I attended this season. See my favorite looks and trends to know below: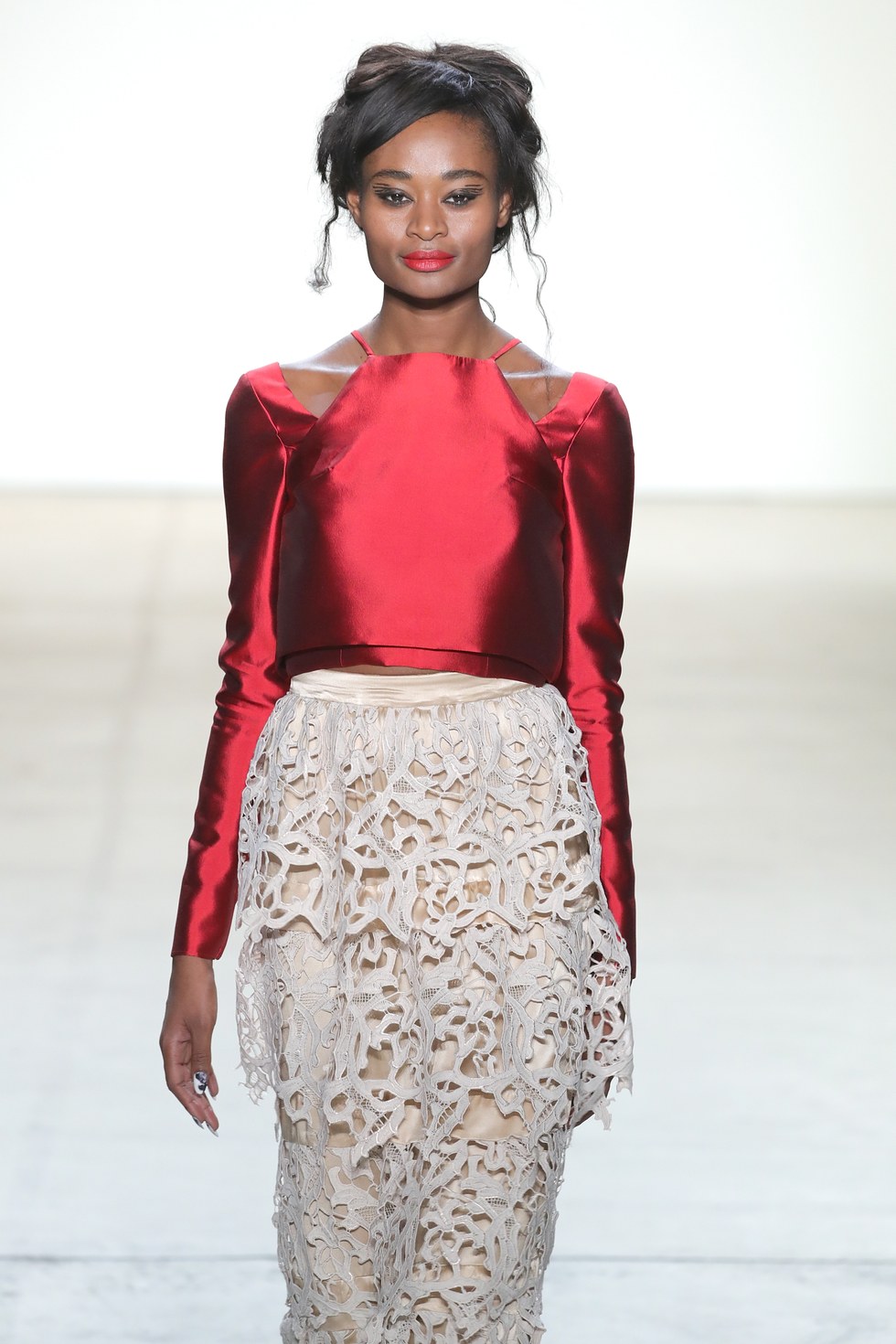 More red, this time paired with lace !!!! Such a perfect clashing contrast!
Shimmer and shine continue to be important, as does this blushy rose color!
Love how she dressed down this look with patent booties<3
So that's a wrap on this edition of NYFW, until September rolls around! It's def not easy leaving Nolan for three days straight, but fashion week only happens twice a year– the thrill and excitement of shows and streetstyle, networking with other bloggers and stylists, and escaping "regular life"for a few days is kind of worth it! Shop all my fashion week looks above through the links, and hoping you guys enjoyed this mini-trend forecast as well!
Happy Weekend ❤
xo,
Christine